Kaasu is the Polish MMD User from DeviantART . She started by model edits. Her own model made in metasequoia is now up for download! All her model downloads can be downloaded via MediaFire.
She's very active on DeviantART, Youtube and SoundCloud.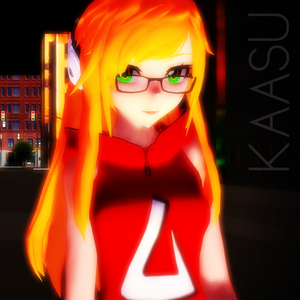 History
Kaasu joined DeviantART in 2014, but she have had previous MMD account , which is deactivated right now for some reasons (doesn't like to talk about it). She started by doing MMD model requests, then making edits. 
Model Policy
Kaasu has her own model policy. Her new edited models are including the original creator's readme, her english readme and polish readme, to avoid misunderstanding. Here is a part of her readme for model edits:
* R-18 is forbidden, BUT if original modeler's rules allows it, that go ahead
* Don't edit 
* Don't redistribute model data
* Do not claim this model as your own
* Don't take .spas and textures
* CREDIT ME AND ORIGINAL MODELER
And for her own models:
Editing is allowed
Taking parts is allowed
Redistibution of an edited model data is allowed ONLY with permission from the creator. Original readme file has to be attached
Redistibution of original model data is forbidden
Using this model data in obscene/grotesque/violent/R-18 content is forbidden
This model data CAN'T be used for any works which contain negative content toward the original product/individual/group
Commercial use is forbidden
Models
Vocaloid
Community content is available under
CC-BY-SA
unless otherwise noted.