Kemilia is known for the OLIVER and Flonne model. She is the first model maker to release an OLIVER model that isn't made from an existing base to the public. Mole was the first to make an OLIVER model from scratch, but it was not released until recently.
Model Policy
Follow the rules and guidelines of the readme.txt
The permission table shown on the official download page seems to indicate that models can be edited and re-distributed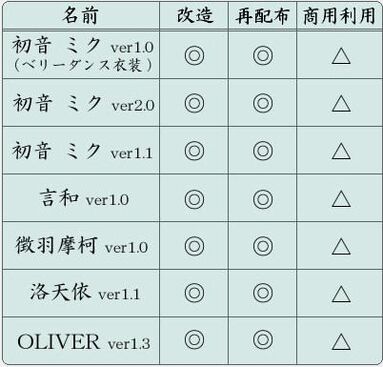 The first column name the item (in this case these are models).
The second column is 改造 (modification, edit)
The third column is 再配布 (re-distribution)
Finally the last column is 商用利用 (commercial use)
On the intersection cells is indicated whether the action is allowed or not, the possible values (based on the content) are a circle, a triangle and an X. By convention X should mean forbidden, triangle is a warning (maybe to indicate that is needed to ask permission first) and circle should mean that the action is allowed. However this is just a speculation based on the content and the context, be warned!
 
Models
Vocaloid
Other