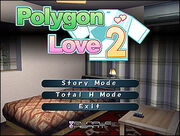 Polygon Love 2 (ポリゴンラブ2) is a 3D erotic/life simulation game developed by Purple Heart for the PC released May 1, 2006, the cost of the game is 1,800JPY (estimated 16.17USD / 14.40EURO).
The player assumes the role of a young male involved into a certain amount of different social actions with his little sister. While the game itself is in Japanese, a fan created English patch is available that converts some of the written Japanese into English. Apart from this patch, there are many other mods and patches, made by fans. They remove censorship, add new clothes and new models for girls.
The makers consider the character within the game to be costuming, and not to be an actual character from a recognized series and or product. The copyright status on the materials for third-party or commercial use is unknown to non-Japanese as the game itself is recognized for being doujin.
Features
The graphics were created by Nekotom and and Asa the game is real-time 3D animation, Voice acting, customizable exciting animation, 40 sets and 300 costumes, adding a total of 444 materials in addition to downloadable content and background environments. There is Story mode and S-only mode.
System Requirements
Supported OS

Windows 98 / Me / 2000 / XP
DirectX8.1 or later
CPU

Pentium III 800 MHz or higher equivalent such as Pentium4, Xeon, Celeron, Athron, Duron
Pentium4 2 GHz or higher recommended operating environment
Free memory

128 MB or more
Graphics card

GeForce3, Radeon9000 or graphic card equal to or higher equivalent. Things have been with more than VRAM32M (recommended environment Geforce5200, the performance of more than one Radeon9200)
(Notebook and onboard graphic are not supported)
Note misprint on package: Radeon9200 has been typo as Radeon9800.
Hard disk

300 - 500 MB of free space
Sound card

Instrument WAVE, DirectSound compatible board
Game Rips
Users on deviantART began ripping and rigging parts to work in MMD. After a burst in popularity a majority of the MMD centered groups banned the submission of Polygon Love edits due to the fact that the game makers have not given direct permission for such use.
The amount of work that goes into converting a PL model to MMD takes some skill as the models were never intended for third party programs, so usually one can find that a number of users have worked together to complete a model for public use. While the end result of ripping is a functioning model (and or hair, clothing, objects) it should be noted that facial expression and physics take time to add.
External links & References